June 2019 DNASTAR Newsletter – SeqBuilder Pro for $99
Buy SeqBuilder Pro online and save!
On a shoestring budget? Students, RA's, post-docs… you're going to want to read further!
My name is Matthew Keyser, and I'm the Senior Manager of Product Development at DNASTAR. During grad school, I studied the developmental expression patterns of a K+ channel in the tobacco hornworm.
Back then, some high-quality mol bio software would have made my life a LOT easier. But who wants to approach the lab manager or PI and ask for some of their hard-won grant money? Not me!
Instead, I made do with freeware. You know the kind I mean. No guarantees of accuracy, poor (or no) user interface, and no support other than a "readme" file.
With a combined 200+ years of academic experience, many of us at DNASTAR spent time going down that freeware path. We feel your pain.

That's why we are currently offering our most popular application, SeqBuilder Pro, for just $99/year for an academic license. Don't worry, non-academics: we have super low pricing for you, too.
SeqBuilder Pro is the most popular application in DNASTAR's Lasergene product line. Not only is it a powerful application for sequence and feature editing, primer design and cloning… but it also offers many other convenient features like the ability to download sequences from NCBI, make virtual agarose gels, and automatically correct & update your plasmid features. Additional features will be released with version 16.0, coming in early summer. Buy now, and you'll get to upgrade to 16.0 for free!
What about support? SeqBuilder Pro is so easy to use that you may never need to consult the user guide. But when you want to learn more or take your analysis to the next level, SeqBuilder Pro features an easy-to-use online guide full of helpful images, step-by-step instructions and short video walk-thrus. If you need even more assistance, our Madison-based support team will be glad to assist or even hold a personalized webinar just for you!
What are you waiting for? These low prices are offered for a limited time only. Don't miss your chance to own SeqBuilder Pro starting at just $99/year!
Are you heading to ASM Microbe in San Francisco this month? Visit our booth to learn more about SeqBuilder Pro and see a live demo of our all-new site directed mutagenesis and protein design workflow. We will also be showcasing our complete Lasergene package for molecular biology, genomics and protein analysis. Stop by and let us know how we can make your work life easier!
Best,
Matt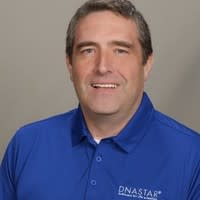 Matthew Keyser
Senior Manager Product Development