March 15, 2021 Newsletter – Free ebook Download, Phylogenetic Tree Q&A, Student Research Licenses
Our home of Madison, Wisconsin is in the far north of the USA, but spring is right around the corner. We're looking forward to warmer weather and brighter days! This month we're featuring information about our new human variant analysis eBook, phylogenetic tree Q&A, and student licenses.
Free eBook: 7 Steps for Human Variant Analysis (and How to Automate Them!)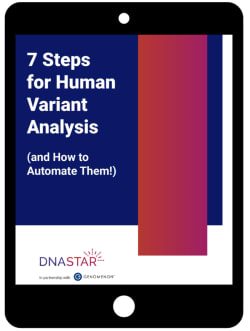 This month DNASTAR, in partnership with Genomenon, released an eBook on some of the challenges involved in human variant analysis and explores some of the solutions available for addressing these challenges. Whether you are working with a core facility, a bioinformatics group, or doing variant analysis on your own, this eBook will help you learn about important considerations to keep in mind throughout the process. Download the eBook to learn how to save your time, energy, and sanity while effectively analyzing human variants.
Answers to your "Phylogenetic Tree" webinar questions
We recently hosted a webinar about phylogenetic tree creation in MegAlign Pro. The record size of the audience meant Dr. Brian Walsh did not have enough time to answer everyone's questions during the webinar itself. Therefore, we have posted a selection of additional audience questions and their answers in our latest blog post. Main topics include: how to perform a multiple alignment in MegAlign Pro, how to handle gaps in the alignment, new ways to display distance metrics, and best practices for building and optimizing phylogenetic trees.
Lasergene Student Licenses
It's now easier than ever to for students to access essential software for sequence analysis. Lasergene student licenses include full access to Lasergene Molecular Biology and to self-service technical support, all for 50% off the regular academic rate. Start saving time on your research and take advantage of one of our student research licenses today!