September 7, 2021 Newsletter – Viral Genome Analysis webinar, Lasergene users around the world, Lasergene 17.3 release

In this month's newsletter, we invite you to register for a webinar on viral genome analysis, share our latest blog post, and announce the launch of Lasergene 17.3.
Register now: Master Viral Genome Analysis webinar
Are you studying SARS-CoV-2 or another viral genome? If so, you won't want to miss our webinar on Wednesday, September 15th at 11:00 CDT, presented by DNASTAR's Product Manager, Matt Keyser.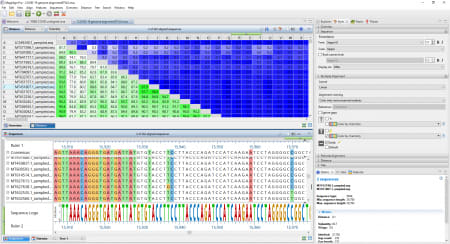 In this free 1-hour webinar, Matt will demonstrate Lasergene 17.3's new workflow for templated long read assembly and analysis. This workflow works for any ONT or PacBio CLR/HiFi data, including data generated from the ARTIC protocol.
If you can't attend the live webinar, please register anyway. That way, we can automatically send you a link to the recorded webinar when it's available.
How are biotech and pharma scientists using Lasergene?
Did you know that that 80,000 researchers around the world use Lasergene? Check out our latest blog post to learn why so many people around the world depend on Lasergene and how they are using it in their research.
Want to learn more? In many cases, these mini-profiles have a link to an in-depth interview as well.
Lasergene 17.3 is available now
In case you haven't yet heard, DNASTAR released Lasergene 17.3 on August 25th. This release includes new features and functionality focused on genomic analysis and variant identification supporting COVID-19 research, including an expanded viral genome analysis workflow, and an updated alignment algorithm to quickly align thousands of viral genomes to known strains.
For a full list of what's new in this release and for links to update your software or request a quote, please visit the Lasergene 17.3 Release Notes page.