September 2019 Newsletter – You can now buy Lasergene online

Welcome to this edition of our newsletter.
For those of you who upgraded to Lasergene version 16 over the summer, I hope you're enjoying the new features. Send your feedback and any suggestions for workflows or enhancements to me at the email below.
Thinking of upgrading to Lasergene 16?
If you haven't yet upgraded to Lasergene 16, I would recommend going to our Lasergene page and checking out the quick overview video at the bottom of the page.
You might also be interested in a webinar I held last month, What's new in Lasergene 16? In this 50-minute webinar, I demonstrated many of the new Lasergene features and workflows using real data provided by customers.
Purchase Lasergene 16 online
Did you know that you can now purchase any Lasergene package or Nova protein structure prediction online?
For most of DNASTAR's history, purchasing Lasergene has involved placing an order through our sales team. We know from experience that asking you about your research can really help us match you to just the right applications and workflows. But in the Internet age, we all want the freedom to make a purchase decision without the middleman too. That's why we started offering SeqBuilder Pro for online purchase last year.
As of this month, you can purchase any Lasergene or Nova product online, take advantage of our affordable annual pricing, and get access to the latest software releases and technical support.
To get started, visit our academic or commercial pricing page and select the product that is right for you.
Upcoming Events

Are you in the San Francisco Bay Area? Plan to see DNASTAR at the Lake Pharma Symposium on October 10, 2019 in South San Francisco, CA.
The focus of this symposium this year is cell and gene therapies. This one-day conference will feature over 30 vendors, 4 lunch workshops, and an amazing list of speakers.
Come to our booth and tell us about your research. My colleague, Brian Anderson will be happy to show you some of our software solutions for protein modeling and design, as well as our genomics and molecular biology tools.
Best,
Matt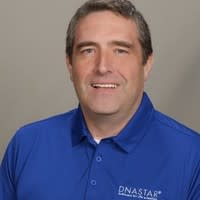 Matthew Keyser
Senior Manager Product Development
matthewk@dnastar.com