The Begin Project screen is the initial SeqMan NGen wizard screen for all workflows. The upper half of the screen offers three options, which are described below. The bottom of the screen contains a live news feed from the DNASTAR website.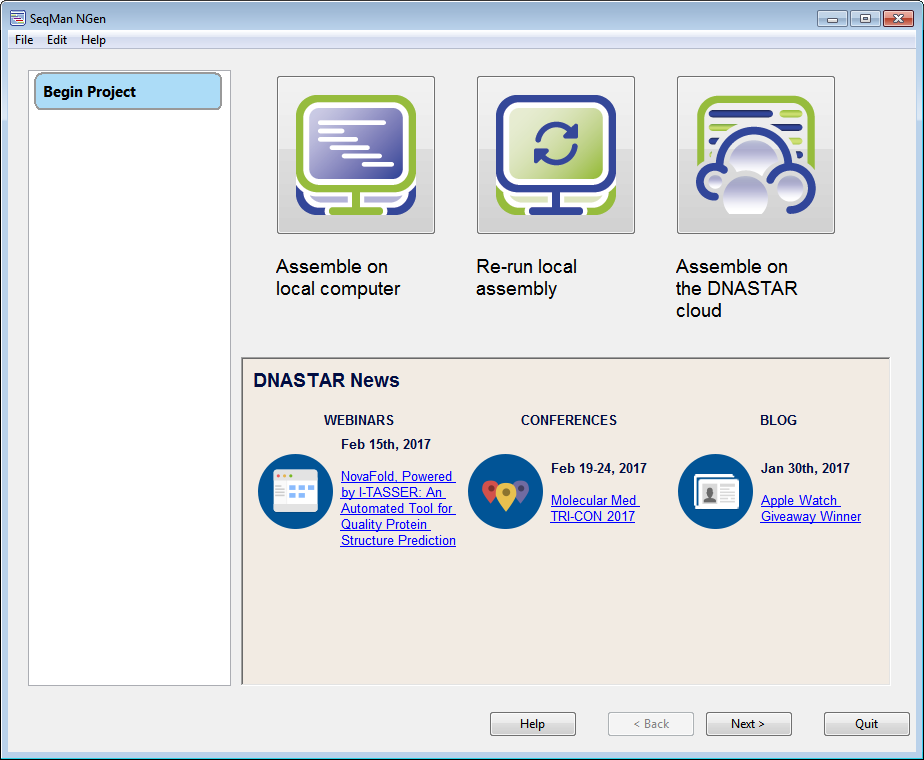 In the upper half of the screen, choose from the following options:
Select Assemble on local computer to create a new project step-by-step using the wizard. Then click Next to proceed to the Choose Assembly Workflow screen.
Choose Rerun local assembly to load a previously-saved SeqMan NGen script into the wizard; this is similar to the File > Open command in other

DNASTAR

applications. Then click Next to open a file browser. After loading the script, you will be taken automatically to the Choose Assembly Workflow screen.
Choose Assemble on the

DNASTAR

Cloud (currently available on Windows and Macintosh only) if you are licensed for this option and wish to perform one or more assemblies on the Cloud, rather than using your own physical machine. If you choose this option, you will be prompted to enter your Email and Password. Enter the information that you use when logging in to the

DNASTAR

website. Check the Save password box if you would like SeqMan NGen to save this information so you do not need to retype it in the future.





If you select Assemblies on the Cloud and are licensed for that application, a message will display the number of assemblies remaining on your license. Click OK to close the message and continue to the next screen.


If you selected Assemblies on the Cloud and are not licensed, a message will appear, asking you to purchase a Cloud license through

DNASTAR

Support (support@dnastar.com).
Once you are finished, click Next > to continue to the next wizard screen.